Engineering Vehicle R&D and Manufacture
Research Center
Industrial Bases
Heavy industry engineering high-tech research and development centre of SINOMACH Heavy Industry takes Tianjin Research Institute of Construction Machinery as core, which simultaneously covers technical resources of four manufacturing bases and jointly promote science and technology innovation taking fundamental research, common technology study and high end application technology.
It has obtained remarkable achievements in energy saving technology, remanufacturing technology and intelligent technology etc. of engineering machinery, forms domestic leading equipment industry technology innovation environments and has first-class scientific research capability.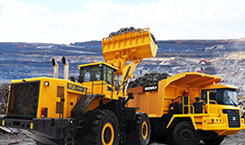 Changlin Base
Changlin Base is the birthplace of first wood loader in our county. It has annual manufacturing capability of 20000 units of loaders, excavators and road rollers and land levellers etc. series products.
Luoyang Base
Luoyang Base is the birthplace of first road roller in our country and the largest professional manufacturing base of large compaction machinery in our country at present. It has annual comprehensive manufacturing capability of 6000 units of road rollers, 2000 units of bulldozers and 10000 units of hydraulic excavators.
Tianjin Base
Tianjin Base is the birthplace of first grader in our country. After the on-going grader technical improvement project is being completed, it will form a comprehensive manufacturing capability of 3000 units of graders, 5000 units of driving axle and 3200 units of other series products.
Southwest(Luzhou)Base
The Southwest (Luzhou) Base, as a development and production base of medium and large tonnage Cranes m China, with more than 40 years of history of research and production in Cranes, has developed 8 tons to 160 tons QY series, G series, LT series and TTC series of Hydraulic Truck Cranes and All-terrain Truck Cranes successively.